Explanation about Aircraft Maintenance Engineering placements in India - Srinagar
Tuesday, 11 December 2018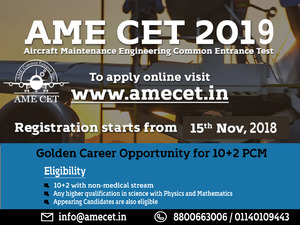 Item details
City:
Srinagar, Jammu & Kashmir
Contacts

AME CET 2019

8800663006
Item description
Aircraft Maintenance Engineering placements in India are very good as India is facing skill shortage of AME. AN AME can do job in private and government sector worldwide. The placement areas for AME such as Airports, Airlines, MRO, Aircraft Manufacturing Companies, Aircraft part Manufacturing companies, Civil Defence forces etc. This is the golden period as aviation industry is flying high in India as well as abroad.
For more detail visit our official website www.amecet, in or contact us 8800663006.